As part of the impending Friends reunion, we revisited some iconic moments that are a timeless reminder of how truly funny the show is.
1. Ross' tanning disaster
"The One With Ross' Tan" – Season 10, Episode 3
Despite a hotter day at the fair, Ross thought he blew it. Who could have known that counting mississippily could cause so many problems for Ross, and so many laughs for us?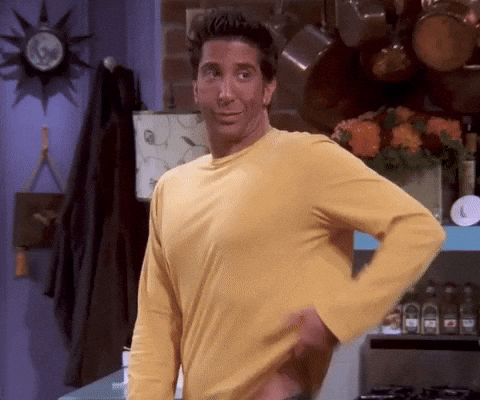 2. Unagi
"The One With Unagi" – Season 6, Episode 17
Rachel and Phoebe, who recently took self-defence classes, try to teach Ross unagi after he takes a group exercise class with them. They have zero tact and immediately mock his position so he learns to take it all in stride.
3. Rachel's Thanksgiving trifle
"The One Where Ross Got High" – Season 6, Episode 9
Such important episodes such as the Friends Thanksgiving episodes are highlights of each season, combining hilarity with tradition. These episodes often featured celebrity guests who went on to be in pivotal roles, including Brad Pitt and Reese Witherspoon.
One of the most memorable Thanksgiving moments is when Rachel made a not-so-traditional dessert, after the pages of her cookbook stuck together. This resulted in a delicious half-trifle, half-shepherd's pie creation. Bon Appétit!
4. Every single moment of "The One Where Everybody Finds Out"
"The One Where Everybody Finds Out" – Season 5, Episode 14
This episode evokes risible belly laughs from beginning and captures their heart-warming hilarity. "The One Where Everybody Finds Out" is a classic Friends episode worth revisiting.
Find more amazing articles about Friends at our blog here! 
Also View Top Best-selling Stranger Things Official Merch Please Click: https://strangerthing.store/